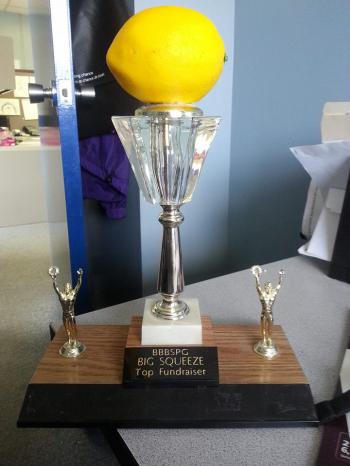 HEY!
CONGRATULATIONS TO EVERYONE INVOLVED FOR WINNING THE LEMON TROPHY IN THE BIG BROTHERS/BIG SISTERS OF PRINCE GEORGE, "BIG SQUEEZE!" We raised $1110.21. almost HALF of the total; $2600!!!
It was a collective effort with Kyle bringing his juicer and elegant pitcher and making the first batch of oh-so-yummy lemonade!!! Ariel contacting prospective donors and running around town in our 'Mobile Lemonade Stand,' ALL THE ON AIR STAFF, (including Kurt and his family who dropped by to help even though it was his day off) Hailey Russell for dealing with the madness and the Prince George Cougars (what a handsome team!) for coming down! They not only attracted a ton of traffic, but helped with making product too! (after drinking everything that was already made! LOL!)
NOTE: The Wolf/94X came 2nd in the taste test… INTEGRIS CREDIT UNION won that (no trophy) their green tea infused, lemonade with mint… FYI, they used child labour…
Thanks again everyone!!! CAN'T WAIT FOR THE 2nd ANNUAL!