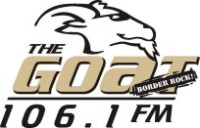 106.1 The Goat in Lloydminster, Alberta, has been named Small Market Station of the Year at the Canadian Music and Broadcast Industry Awards, a feature event of Canadian Music Week.
"I can't even begin to say how proud I am of every single member of my team," said Goat Program Director JD Anderson. "It's clear that our industry peers respect the creativity and hard work we put into our product every day."
Anderson was himself a finalist in the category of Small Market Program Director of the Year, while The Goat's Brittany Millman was nominated in the category of Small Market Music Director of the Year.
"Canada is dotted with vibrant, hardworking and generous small communities," said Vista Radio President and CEO Margot Micallef. "We have radio stations in more than 50 of them, reflecting and contributing to the identity of each one."
To win Small Market Station of the Year, 106.1 The Goat was judged on its ratings, community service, contribution to building Canadian radio talent and exceptional achievements. The station has plenty to be proud of, being the first commercial radio station in Canada to win the International Award of Broadcasting Excellence from the US National Association of Broadcasters in 2003. Five years later, The Goat received the same award, making Vista's Lloydminster station the first in the world to be a repeat winner. Since 2002, individuals at The Goat and the station as a whole have received a total of 33 nominations in the Canadian Music and Broadcast Industry Awards, winning three, including this 2013 accolade.
The Goat was launched on May 18, 2001, as the mid-west's first commercial FM radio station. A blend of rock n' roll from the 60's through today is interspersed through popular and entertaining shows like The Goat's Morning Breath, The Daily Grind, and The Afternoon Drive.
"The Goat is live, local, and proud to be an active part of Lloydminster, and communities across the Mid-West," said Micallef, who is at Canadian Music Week in Toronto, taking part in the Radio Interactive: International Radio Summit. Micallef has spoken as one of four members of a Radio Executive Panel, in a session called "View from the Top."
Vista Radio was founded in 2004 by Paul Mann, Jason Mann, Margot Micallef, Bryan Edwards, and Barb Fairclough with a vision of creating a strong broadcast voice in Canada's regional and mid-markets by providing top quality local programming, engagement and service. Vista now employs nearly 300 people, working to connect people to people, products & services that enhance the quality of their lives.