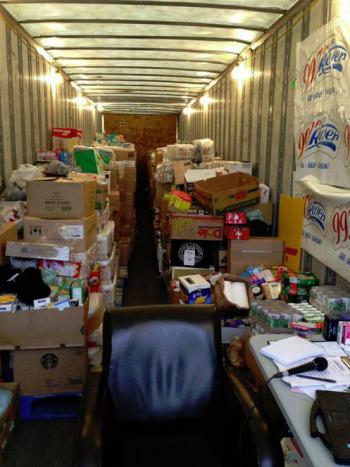 December brings holiday cheer and a warm glow to Vancouver Island homes, but Vista Radio morning man Uncle Scotty has spent the first 11 days of the month working, eating and sleeping inside an ice-cold semi-trailer.
The 53 ft VanCam freight truck was parked outside Save-On-Foods collecting donations for the Campbell River Food Bank. Scotty wasn't allowed to leave until there was no space left for him to stay.
"Scotty put a recognizable face to a predicament many face in the holiday season," said 99.7 The River General Manager Doug Zackodnik. "He was able to tell listeners exactly how unpleasant it is to spend each night in the cold."
The 4th Annual River Relief Truck saw the power of radio bring out the best in Campbell River,delivering food to those in the community who otherwise might not be able afford a hot meal for themselves.
"It was wonderful experience, hearing the stories from people as they donated and the look of amazement from young and old as the truck filled," smiled fellow announcer Warren Andrews. "It was truly special and I'm really proud of how we all pulled together to make this happen."
Over 30 palettes of food and over $16,000 cash will help the Campbell River Food Bank well into 2013. The 600 frozen birds collected on Turkey Tuesday will be shared between the Salvation Army's hot meal program, the Knights of Columbus and the Campbell River Food Bank.
"I am incredibly proud of The River team for pulling this off again this year," said Program Director Drex Wilcomes. "Thanks to Rickie Tyler and Warren who were our lead coordinators, of course Scotty, Carmen Weld, and our River sales team of Richard, Lisa and Elaine, for arranging the amazing sponsors who made it happen. Your community thanks you."
"This is the true spirit of Vista and the Christmas season," said Vista Operations Director Ross Hawse. "Thank you all for your amazing effort."