Vista Radio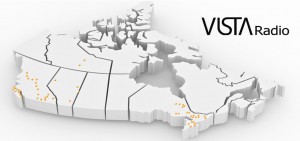 is on its way to becoming one of Canada's premier broadcasters, with two big moves currently before the Canadian Radio-television and Telecommunications Commission.
The CRTC has already handed down one Decision Letter this month, approving a new investment structure. When the transaction is complete, Vista Radio will be owned by Westerkirk Capital Inc. and by Vista's own executive management team.
Westerkirk's backing puts Vista in a strong position to move forward with its largest ever acquisition. Subject to CRTC approval, Vista is poised to take control of the Haliburton Broadcasting Group, which operates 24 radio stations across Ontario.
"When we first started Vista, we knew we wanted to be a national broadcaster," said President and CEO Margot Micallef, who is also a founding shareholder. "The deal with Westerkirk is the first step to enable us to fulfill that vision. Haliburton is the next step and we have other irons in the fire which will see us realize this goal over the coming months and years."
The Commission will consider the Haliburton take-over at a hearing in Montreal on 10 September, 2012.
Micallef says the deal is worth around $31.5 million and it's one that all parties are excited about.
"At Vista we put a very strong emphasis on local news, local content and being integrated into the fabric of the community. Haliburton shares that vision and has a culture very similar to Vista's, so we think it's a great fit, not just for our company but for our employees, the Canadian broadcasting system and the communities that Haliburton serves."
Vista Radio already operates 38 radio licenses, serving over 50 communities across British Columbia, Alberta and the Northwest Territories, in addition to 12 community websites.
The deal currently before the CRTC would see Vista acquire all Haliburton assets around Ontario: in Niagara Falls, Elliot Lake, St. Catharines, Iroquois Falls, Timmins, Kapuskasing, Bancroft, Stratford, Fort Erie, Parry Sound, Huntsville, Bracebridge, Sturgeon Falls, Cochrane, Hearst, Haldimand, North Bay, Haliburton, Espanola, Bolton, Caledon, Barry's Bay, Kemptville and Prescott.
"The staff of Vista and Haliburton alike should be feeling very excited," said Micallef. "This is one of the only broadcasters that is really growing, hiring and creating many opportunities for employees to grow with the company."